Ever since the day I broke my back I have not been able to run properly.
If you see me try, I tend to think that I look like a broken gazelle trying to run, or that I look like I am running in slow motion, but in real-time.
Since I never enjoyed running prior to my motocross accident that left me a paraplegic in 2006, I never made it a priority to try and run again.
Until 2011.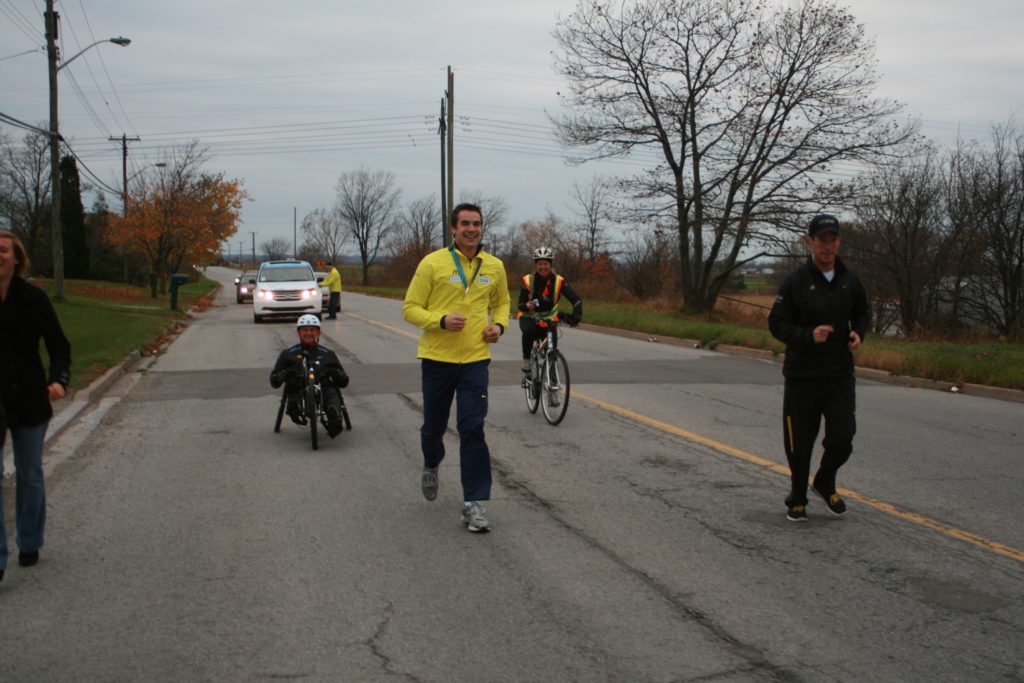 In 2011 I participated in the Rick Hansen 25th Anniversary Relay and that was officially the first time I increased my speed beyond what you would experience while pushing a shopping cart. I took short burst of jogging over a 1km span and was honestly high as a kite after that experience.
It wasn't easy, but I did it.
After that, I never really gave it a shot again until I heard about the Wings For Life World Run in 2015.
The run, which was created in 2014 by the two-time motocross world champion Heinz Kinigadner and the Red Bull founder Dietrich Mateschitz, is focused on helping find a cure for spinal cord injuries and paraplegia. The foundation supports research and studies about spinal cord injuries, and one of the elements of the story that makes it very authentic is that founder, Kinigadner, has both his brother and son (both motocross riders too) are bounded to wheelchairs after injuries.
Going back to 2006 for a moment… when I was riding FMX, getting involved with Red Bull at that time was the epitome of sponsorship.
Basically, having a relationship with Red Bull was like having a relationship with Jay Z and Beyoncé.
But I was never good enough to have a relationship with Jay Z or Beyoncé, and Red Bull only sponsored the best of the best riders, so fast forwarding to 2015, when I received a call from Red Bull to be an ambassador for the Wings For Life World Run, it was basically like getting invited to go on tour with your dream idols.
"I'm in!", I said.
I ran about 3.5km in 2015 which felt pretty amazing. In 2016 I unfortunately couldn't participate, and in 2017 I got together with a new friend, Pauly Plewa.
I met Pauly through the Spinal Cord Injury (SCI) community, and Pauly broke his back while riding motocross. So you can imagine, he and I got along great! We teamed up to help promote the run and create a bit of head to head competition amongst two friends.
We did some school talks. We practiced running in his driveway. It was truly a privilege "Running for those who can't" as Pauly and I both know how lucky we are to have recovered from our incomplete SCI's to return to a normal life.
Pauly and I were able to clear 5K each that day in 2016 before the catcher car caught us. Then, in 2018 I had the privilege of running locally in Toronto with Rob MacDonald, another inspiring dude I met.
Rob sustained an SCI after falling from a balcony while on vacation and is an incomplete paraplegic who was given a 5% chance of walking again. Yet, Rob was determined to give everything he had to recover and today has participated in multiple marathons, also raising over $165,000 for the Toronto Rehab Foundation through a running club he started called Team I Will.
Although I wasn't able to clear the 5K as I had the year prior, getting to be a part of the cause again and speak at Red Bull headquarters in Toronto sharing my story alongside Rob was one very special moment.
2019 is going to be about setting new records, not just personally, but all across Canada.
Mike Shaw and Jim Mullan are two incomplete quadriplegics who both made miraculous recoveries in recent years. Mike was paralyzed while skiing, and Jim sustained a neck injury diving into a pool. Together, they decided to create #TeamCoast2Coast and set a goal recruiting all Canadians to help collectively run 5500 km across Canada.
Through the WFL World Run app participants can log their own kilometers from anywhere around the world and choose to participate with friends even if they aren't in the same proximity.
As Rob MacDonald and I lead the Toronto based run, we are asking all friends and family to join us as we look to tackle "Running For Those Who Can't" on May 5th, 2019.
Please join us by registering with the WFL World Run App here and join #TeamCoast2Coast.
Other organized runs across Canada can be found here, and if you are in the Calgary area be sure to team up with Ryan Straschnitzki and Josh Dueck, two other inspiring friends who represent the west coast with Mike Shaw.
The run kicks off in Toronto at 8:45am and will be followed by drinks, food, and remarks at RedBull headquarters after the run.
Please come join me and my friends in running Coast 2 Coast across Canada and raise funds for spinal cord research on May 5th.
I look forward to seeing you there!
Enjoyed this article? Here are three others to help you succeed:
What to do when nothing is going right — Kevin Rempel
Life Doesn't Give You What You Want, Life Gives You What You Need — Kevin Rempel
These Words Saved Me From Suicide — Kevin Rempel
—
Download your FREE copy of my autobiography, Still Standing: When You Have Every Reason to Give Up, Keep Going here.